The move of address process consists of 2 steps:
Cancellation of your old address
Apply for your new address
1. Cancellation of your old address 
To complete the move of address process, please submit the cancellation of the service at your current address by following the steps below:
1. Log into your
CooZone
Account & click on the "Cancellations" tab in the "Navigation" pane: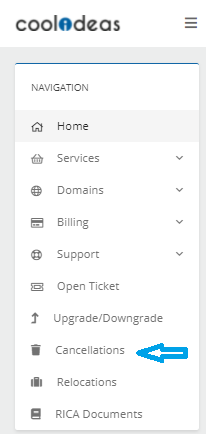 2. Click "Cancel Service" on the service that you wish to cancel:

3. Confirm your cancellation reason and click "Cancel Service". Once completed, a ticket will be opened to confirm the cancellation.
Should this option not be available for your specific service, click here to submit a cancellation request together with your account details.
This request should be submitted from the account holder's email address for verification purposes. Please be sure to include the address/service that you're looking to cancel if you have multiple products with us.
2. Apply for your new address:
We will require a new application for your new address in order to process it with the Fibre provider. 
All new orders should be completed through our
Online Application
.
To apply, kindly enter your address into the search bar, select the relevant Fibre provider and package of your choice, then complete and submit the application form.
Important information:
Once the Fibre Line Provider has completed installing and configuring your Fibre Line, they will notify us that it is ready for ISP activation. At that point, we will contact you to activate the line on the Cool Ideas end. Please be advised that billing for your new address will commence once the service has been activated on the Fibre provider's end.
Please note that we require a full calendar months' notice for the cancellation of any fibre-to-the-home service.
No move of address request will be processed without an application form for the new address.