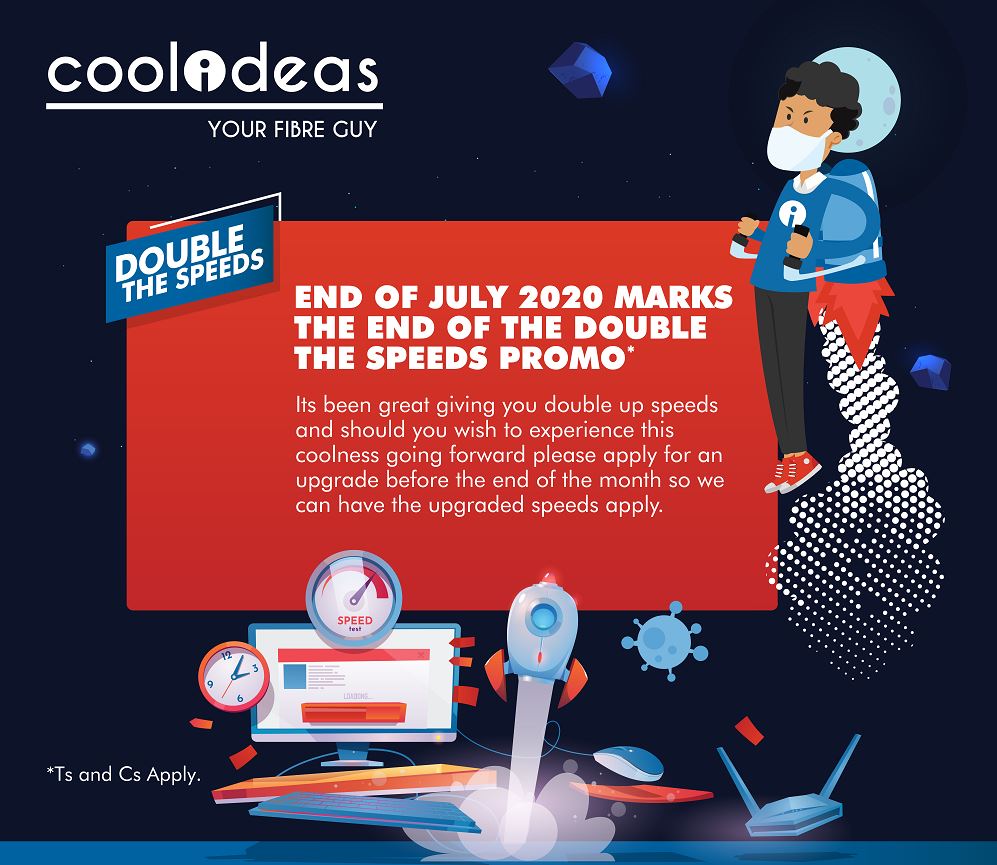 We are currently offering double-up speeds on the below fibre networks.
For all the info related to your Fibre Network Operator, please click on the links below:

Some disclaimers to note:
All upgrades have been completed. If you not getting your double speed, please log a support ticket with your ISP.

Mitchells Fibre clients will not be upgraded for the time being, due to Vumatel constraints
SADV users will not be automatically upgraded as a cause of their final acquisition by Vumatel.
SADV is offering upgrades as a separate entity but we will announce when we are ready to implemented this.
If your Fibre Network Operator is not listed in the above promotions, then we will let you know if we are going to implement upgrades, if at all.
Please read the fine print for each promotion.
We will not entertain tickets or support calls regarding the free upgrades.
We reserve the right to cancel or vary the terms of these promotions at any time should network conditions not allow us to provide an acceptable service, or under any condition we see fit, with no prior announcement to you, except for this page.
If your account is in arrears or, if you are not paying you will be disconnected and suspended, and not receive a free service.
The upgrades are a "free" privilege, not a right.
The line upgrades are under the network operators' control, not ours.
Once the fibre operator has upgraded lines, an announcement will be made here. It may require you to reboot your router, depending on the network.
Information on Vumatel upgrades:

The upgrades will start rolling out on the 01 April at midday. We will upgrade all 10/2 and 10/10 Mbps services to 20/2 and 20/20 Mbps on both the active ethernet and GPON networks. Please note that the 4/1 Mbps for Parkhurst will be upgraded to 10/2Mbps service.
We will review the upgrade process and capacity on the network on Thursday, 02 April at 14:00. Should any risks be identified that affect the integrity of our network and yours, we will evaluate our course of action, and may need to consider postponing, or in extreme cases, roll back the upgrades. The remainder of the service upgrades will be based on the successful implementation of the 10Mbps to 20Mbps upgrades.
20Mbps and 50Mbps upgrade ETA - Thursday 02 April
100Mbps and upwards ETA - Friday 02 April